General Info
President: Courtney Van Boxtel 
Vice President : Nikki Love
Treasurer: Lisa Puyleart
Secretary: Rebecca Ollman
Grade Levels: 9-12
Meeting Minutes
Student Account Payment Request
New and improved process to request funds from your student's music accounts. You can find the dollar amount in each account posted in the band and choir rooms. If you would like to use these funds to make a payment, please fill out the Google form below.
The student's Activity Account is through the school and is managed by the student treasurers, Maya Cornejo for band and Kaden Brown for choir. Examples of where these funds are from: Hansen Pizza fundraiser, Chic-n-Dip fundraiser, the cookie dough/pizza fundraiser this fall.
The student's Music Booster Account is through the Music Boosters and is managed by treasurer, Lisa Puyleart. Examples of where these funds are from: Resch Center volunteering, Script cards, ticket scanning at Lambeau Field, etc.
If you have questions for the treasurers, please send an email to their address below. Please cc: Mr. Busch or Mrs. Brown if emailing the student treasurers.
Maya Cornejo      Activity Account for Band
Kaden Brown     Activity Account for Choir
Lisa Puyleart    Music Booster Account for both Band and Choir 
Band Text Reminder System
Choir Text Reminder System
Booster Meetings
Booster Meetings take place the second Monday of each month at 7:00pm in LGI – 1 at Pulaski High School.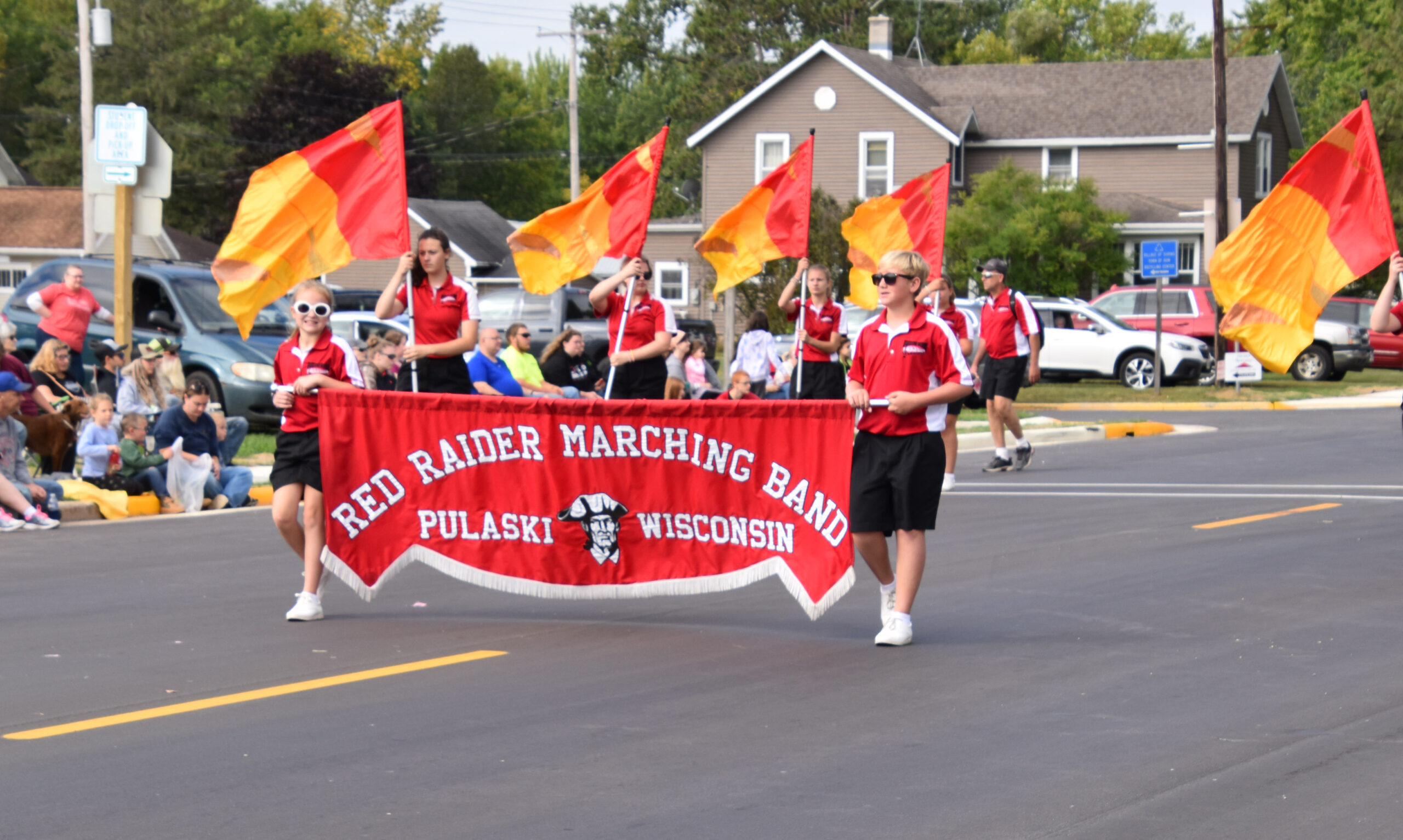 Thank you donors!!
We are so appreciative of all the donations of food, water, and gatorade for our band and choir camps, summer and parade season. Thank you to all who donated!!
We are YOU! The voting members of the Pulaski Music Boosters are the parents and guardians of the current students in Band and Choir at Pulaski High School.
There are no membership fees, membership is free. There is no application form. If you have a student in a music program at Pulaski High School, you are automatically a voting member. If you do not have a student in a music program at Pulaski high School, but support the music programs, you are a member. Sorry, we have to limit the voting members to the parents and guardians of the students in the program.
When you shop online at amazon.com, Amazon will donate .5% of your purchase of qualifying items to the Pulaski Music Boosters!
Be sure it reads "Supporting Pulaski Community Schools Music Boosters" at the top of the page. Otherwise, click the arrow to select or change your charity. Simply search for Pulaski Community Schools Music Boosters.
View and download photos of the Pulaski Red Raider's trips & events of the Choir, Band and Color Guard.

We are always looking for your support and feedback. Let us know what's on your mind.
Our Mission
The Pulaski Music Boosters are a group made up mainly of the parents of the students in Choir, Band, and Color Guard. Our responsibility is to support the endeavors of our children who take part in the Pulaski Music Program. Whether it be holding fundraisers, monitoring rooms during the Solo/Ensemble Festival, or sorting uniforms after a concert, our primary goal is to help the Pulaski Music Program succeed. We thank you for your interest in the Pulaski Music Program. Please take some time to look around our site, and see what it has to offer. Please check back often for headline news and information.
Please click this link to be taken to the information about our current physical  gift card sale through RAISERIGHT! Raise Right Flyer re Gift Card purchase February 2023 If interested in ordering the order form can be found at the following link:February 2023 SCRIP...
For the Choir families that will be joining us on the Friends/Family tour for Pasadena, please see the attached message from our Lead Erica: Hey there! I've had a few choir parents express concern over the friends & family tour missing the Midway performance. I...
This is just a friendly reminder that if your student is going on the Pasadena 2024 Music Department trip your first installment payment is due TODAY January 3rd to your Harmony Tours account.
Location
Pulaski Music Boosters
PO BOX 441
Pulaski, WI 54162
We strive to support the Directors and our kids.
Our biggest fundraiser of the year is right...